Trinity Catholic College Auburn is celebrating the outstanding talent of two of their young artists – Matthew Cheng and Annelia Itula – whose artworks were recognised as Highly Commended in the Sydney Catholic Schools' inaugural Portrait Prize competition. 
Matthew, in Year 12, took inspiration from a photo he took of his father for his graphite and charcoal entry 'Gratus Sum' which depicts his family moving to Australia for a better life.
"My father worked many jobs through the years, tirelessly working in harsh labour conditions, trying to create a good environment for our family to thrive and grow," Matthew said.
"Gratus Sum is a show of the fruits of his incessant labour, his unwavering support and my gratitude and admiration for my father" – Matthew Cheng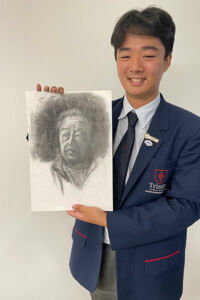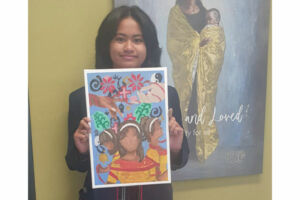 Year 8 student Annelia's portrait entry, titled 'Mareta', is of her friends.
"The process of painting the portraits was first using a photo to sketch their faces," explained Annelia.
"I then used paints to paint in the faces and background, first starting with yellow and then finishing with darker colours."
Trinity Catholic College Principal, Daniel Delmage, said: "We are proud of Christopher and Annelia for achieving outstanding recognition for their exceptional artworks." 
About the competition
Sydney Catholic Schools' annual Portrait Prize gives students the chance to recognise and appreciate someone well-known to them and who plays a significant role in their life by paying them one of the highest compliments – painting or drawing their portrait.
The theme for the 2022 Portrait Prize was: Me, You, Us. 
The Portrait Prize attracted a strong field of 211 entries from talented artists in Kindergarten through to Year 12.  
Each year entrants' works will be exhibited in a virtual gallery on the Sydney Catholic Schools' website, and prizes will be awarded in all age categories.
Finalists have the opportunity to represent Sydney Catholic Schools in the Young Archie competition run by the Art Gallery of NSW.