We commit to providing safe and supportive environments which nurture the wellbeing of all students and staff in our community, and hold firmly to the belief that they have a right to be safe, respected and valued in an inclusive environment. We know that when students are happy, they are more engaged with their learning.
Schools benefit from wellbeing initiatives and pastoral care support through Sydney Catholic Schools – in areas such as anti-bullying, positive behaviour, student counselling, refugee support and child protection – which range from universal support for all students, to targeted interventions for students with complex social and emotional needs.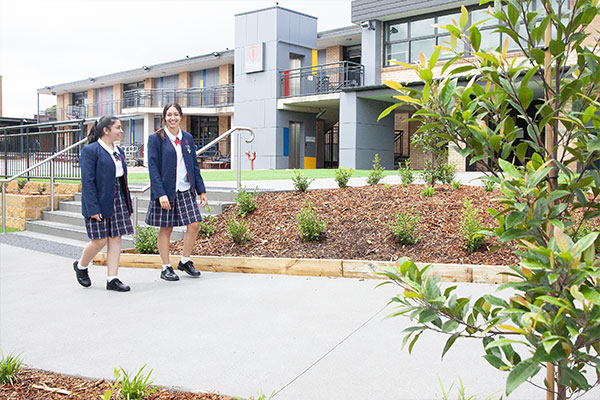 Pastoral Care
Pastoral care plays an important role at Trinity Catholic College. As stated in the Vatican document 'The Catholic School', our college is committed to the development of the whole person, in line with our Marist charism.
Through the college's Marist charism, students are encouraged to seek Jesus Christ and Mary "our Good Mother" in their daily lives, developing themselves into well-rounded individuals with a deep sense of respect, for themselves and others, and a love of learning.
We aim to provide for each student:
An atmosphere which makes the individual feel accepted, valued and loved
Good relationships within the college community based on mutual respect and open communication
A sense of enjoyment and satisfaction from learning
A safe and disciplined environment where students feel the challenge to pursue excellence in all areas of school life – spiritual, academic, cultural and sporting.
Pastoral care at Trinity Catholic College recognises and values the rich diversity of cultures that exist in the school.
Celebration is an important part of the pastoral care program in association with the Marist charism, which calls us to foster a family spirit, to be present among young people, and to mirror the simplicity of Mary in all that we do.
We celebrate our college's rich cultural diversity, and provide opportunities to reflect on the spiritual life of the individual and the community.
Be You at Trinity
Trinity Catholic College is beginning the journey of becoming a 'Be You' community. The aim of the Be You program is that students experience a learning community that is positive, inclusive and resilient. Staff will undertake professional development to develop their mental health skills and knowledge and the program involves all stakeholders including students, parents and carers.
Sydney Catholic Schools rejects all forms of bullying behaviours, including online (or cyber) bullying, by maintaining a commitment to providing safe, inclusive and respectful learning communities that promote student wellbeing for learning. Staff at Sydney Catholic Schools are committed to employing wellbeing strategies that allow for a healthy school environment where bullying is less likely to occur.
If your child is experiencing bullying of any kind, or you have a wellbeing concern, we have a number of support services available for parents/carers and students, as listed below.
Support services: