Dear Parents and Carers,
Thank you for considering Trinity Catholic College for your child's Secondary education.
At Trinity Catholic College our vision is to be a genuinely Catholic community of parents, students, teachers and parishes working in partnership to ensure that our students are safe, happy, well taught and learn to know and love Jesus and live by His values in the Marist way. Building on a history of providing a quality Catholic education in our local area since 1893, Trinity Catholic College is genuinely Catholic and proudly Marist, embracing St. Marcellin Champagnat's mission to make Jesus Christ known and loved. Our community is committed to excellence in learning and teaching in our contemporary world and our consistently strong academic results speak for themselves.
Our principles of learning and teaching capture our belief that quality student learning is motivating, deep, communal and contextualised. It is our intention that our students are hopeful, engaged, resourceful and disciplined. It is these aims that inform our daily work.
The quality care we provide in the Trinity community begins with the provision of a dual campus environment. With our specialist middle school campus, we ensure that students have an effective transition to high school in a happy and safe environment, in the company of young people their own age. Our teachers at the Regents Park campus specialise in teaching Year 7 and 8 and are expert in meeting the needs of young people aged between 11 and 14. The educational co-curricular opportunities provided for all students are outstanding and further enrich our Catholic learning community.
Once again, thank you for considering Trinity Catholic College for your child's further education.
Mr Daniel Delmage
Principal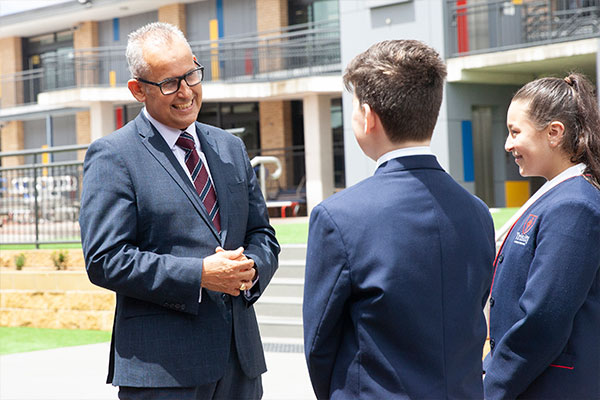 Proudly Part of the Community of Sydney Catholic Schools
Our school is part of a system of over 150 low-fee Catholic schools in the Sydney Archdiocese.
Sydney Catholic Schools are thriving Catholic communities that ignite a love of Christ through excellent teaching and learning to empower students to reach their full potential.