Our school provides opportunities for students, staff and parents to know and celebrate our Catholic faith. This is done through the religious life of our school. Members of our community experience a rich liturgical and prayer life, celebration of the Sacraments, faith formation, social outreach activities, and opportunities to share faith with each other and with youth from other schools in the Archdiocese.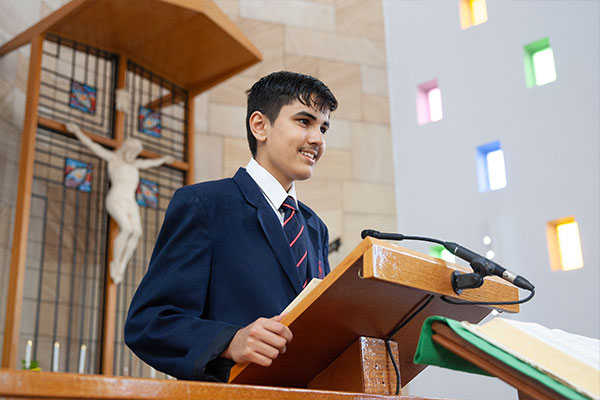 Religious education at Trinity Catholic College encompasses many aspects of school life, including:
The classroom Religious Education program

The integration of Catholic values across the curriculum

The liturgical and prayer life of the school

Opportunities for retreats and reflection days

Community service programs and volunteer groups.
Faith Formation is at the very heart of the college because it strives to nurture the whole person and educate them in the Catholic tradition. We aim to help every student develop a strong personal relationship with God and challenge them to live the Gospel values.
In Year 7 through to Year 10, students participate in reflections days and regular visits to the local parish in their Religion, Catholic Studies class groups. Year 10 and 11 students also have the opportunity to be a part of the REMAR team which participates in Marist Youth outreach programs.
In Years 11 and 12 all senior students participate in an annual retreat. This gives every student an opportunity to reflect upon their relationship with themselves, their family, their peers, and their faith. It is a time to question, to search for, and to discover a deeper and more mature relationship with their faith and their God.